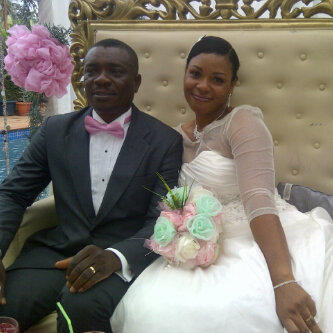 The chorus of the hit song "I'll always love you" by Celine Dion really encapsulates the feeling that lovely Ifeoma Linda Iyade & Benjamin Okoh on Saturday 22ND September 2012 @ St' Cyprain's Catholic Church New Oko-Oba Agege The memorable nuptial ceremony witnessed by their parents, family and friends,the officiating minister then took time to explain to the congregation especially the couple the reason for marriage. According to him, marriage is appointed by God. The church believes that marriage is a gift of God in creation and a means of grace by which man and woman become one heart, mind and body. Marriage is a life long union of man and woman who gives themselves to each other in love and trust.
Then the couple was asked if they had decided of their own free will to get married, their answer was in the affirmative and they were eventually joined and blessed. The whole church cheered in sheer delight as the couple exchange rings and were presented to the church as the newly wedded couple Ifeoma Linda Iyade & Benjamin Okoh
Guests filed out into the bright sunshine that day after the church service for photo calls, before they left for the reception.
The reception took off @ La Mango Restaurant & Bar @ no 2 Adekunle Fajuyi street G.R.A Ikeja and it was nothing less than what was expected. A very exciting moment of the event was the cutting of the cake where they both feed each other and there was a kiss to seal this open expression of affection.Another memorable moment was when Ras-Kimono and wife Efe supervised the cutting of the cake.When Ifeoma Linda Iyade was asked to describe her husband she said "He is very caring, a sweet man, strong in mind, body and soul, he values my opinion, he loves me and he is very ambitious". the couple have a lovely son together name Benjay junior.